The sign language dictionary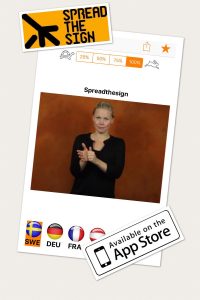 Spread the sign is an international web based translation tool for sign language. The tool increases the accessibility to other sign languages and simplifies the exchange between sign language users in the world.
This tool provides the possibility to see how words and sentences are made in sign language, shown as video clips. These words and sentences can be shown in many different sign languages, and the access is more or less immediate. The web page www.spreadthesign.com is helpful for communication between deaf and hearing people, and for users of different sign languages in the world.
SpreadtheSign started in 2006 as a Swedish project by Social Science teacher Thomas Lydell from the Swedish National Upper Secondary School for the Deaf and Hearing Impaired in the town of Örebro, Sweden. It was initially funded by the European Commission and the Leonardo programme under Life Long Learning.
It is worth underlining that there is no universal sign language, which means that every country has a unique sign language, just like the spoken language.
More than 500.000 signs have been put into the data base so far. This is an ongoing project and our aim is to to add more partner countries as we continue. SpreadtheSign is the only dictionary of its kind.
As an extension, the mobile application Spread Signs was launched in Sweden in 2011, for Android and iPhone. And since 2016, we also have a quiz app called Spread Quiz. Made by the videos in our data base, for users to learn sign language in a fun way.
Our site is free to watch for our private users. Researchers, developers, universities and
companies must buy a license – the visitor types a word in a selected language, which is then shown visually in the chosen sign language.

Picture taken at our meeting in Madrid, 2015